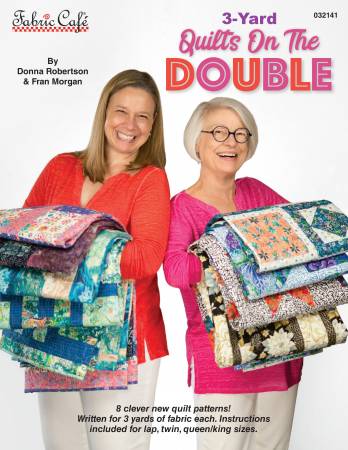 Cabin Fever Shop Hop 2022   February 18-26    Most shops are closed Sunday, Feb. 20
Shop Hop Minimum Hours at all shops every day 10 am–5 pm, but each shop will be open their regular hours in addition to the minimum hours
Starting Feb 1, pick up your passport at any of the 7 shops for $16.  Passport includes the book Quilts on the Double.
Do YOU have Cabin Fever?  Join Back Door Quilts and six of your favorite shops as we beat the winter blahs!  Each shop has chosen one quilt from this new three yard book, and will have kits available for their project.  You can pick up your kit, and get 20% off one regular priced item at each shop (some exclusions apply).
While you're at each shop, get your passport stamped to be eligible for the Grand Prize of a $50 gift certificate from each of the shops ($350 value) or one of 7 gift baskets to be awarded, each worth $100.  Feb. 1, our basket will be on display, and the passports will be ready, so hurry in for yours!  You must have your passport stamped at all 7 shops during the shop hop to be eligible for the prize baskets.
Participating Shops:
Back Door Quilts    2503 Fairview Place, Suite W   Greenwood, IN  46142
teribackdoor@indy.rr.com   www.backdoorquilts.com   (317) 882-2120
Quilt Quarters   Carmel
Tree City Stitches   Greensburg
The Quilter's Nook   Versailles
Pohlar Fabrics   Liberty
Stitching Nook   Richmond
Nancy's Fancys Sewing Center   Richmond
Normal Back Door hours are Mon 10-9, Tues-Sat 9:30-3, 1st and 3rd Sun 1-4