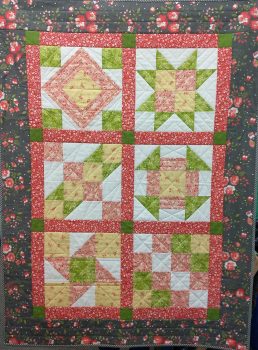 Beginning Quiltmaking
Charlotte is teaching the Beginning Quilt-making class, and she is a patient teacher! The project is a lap size sampler quilt, and we will help you choose fabrics that will make you feel accomplished! Please get supply list and fabrics before the first class.
Session I
Dates:
Mondays, 10/5 - 11/16
SORRY. THIS SESSION IS FULL.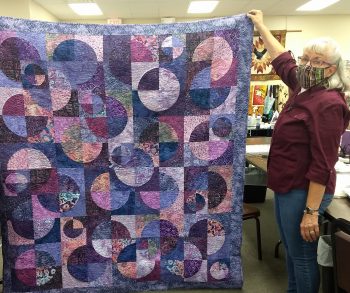 Moondance
Are you afraid to sew curves? Come and learn Carol's quick and easy technique that requires NO PINS and NO SPECIAL SEWING MACHINE FOOT. You'll learn the secret to making a perfect curve every time. Any skill level can make this quilt. You'll be amazed at how quickly you can cut all your fabrics and sew this quilt together. Good quality fabric is essential—batiks are perfect!
Enrollment:
Min 3, Max 16
Attention: Please do not wear perfume to class or to Club meetings! Some staff and customers have serious allergy issues!! Also, at this time we are requiring masks and social distancing. Let's all work together to keep each other safe!
Classes do not include supplies unless specified.
We plan on having all our classes and club meetings at this time, although that could change. If you don't feel comfortable coming to class, please give us 48 hours notice as always. Please don't come if you're sick! We are cleaning our surfaces and following the CDC guidelines. There's plenty of room here that you don't have to be too close to your neighbor! If anything changes, we will post it on Instagram and Facebook, in an e-mailing, and on our web site.
Class Policy
It is our policy that you are not registered for class without paying the full class fee. If you do not show up and do not call 48 hours in advance, we are not obliged to refund your fee. Refunds will be made if a class is cancelled. Classes may be cancelled if less than three sign up. We ask that you purchase your class supplies from us, and we offer 10% off purchases made at class time, and 10% off class supplies only ahead of class.
PLEASE NOTE: As a courtesy to all our students, please do not bring children or non-paying guests to class!