Sign ups are now closed for First Saturday 2021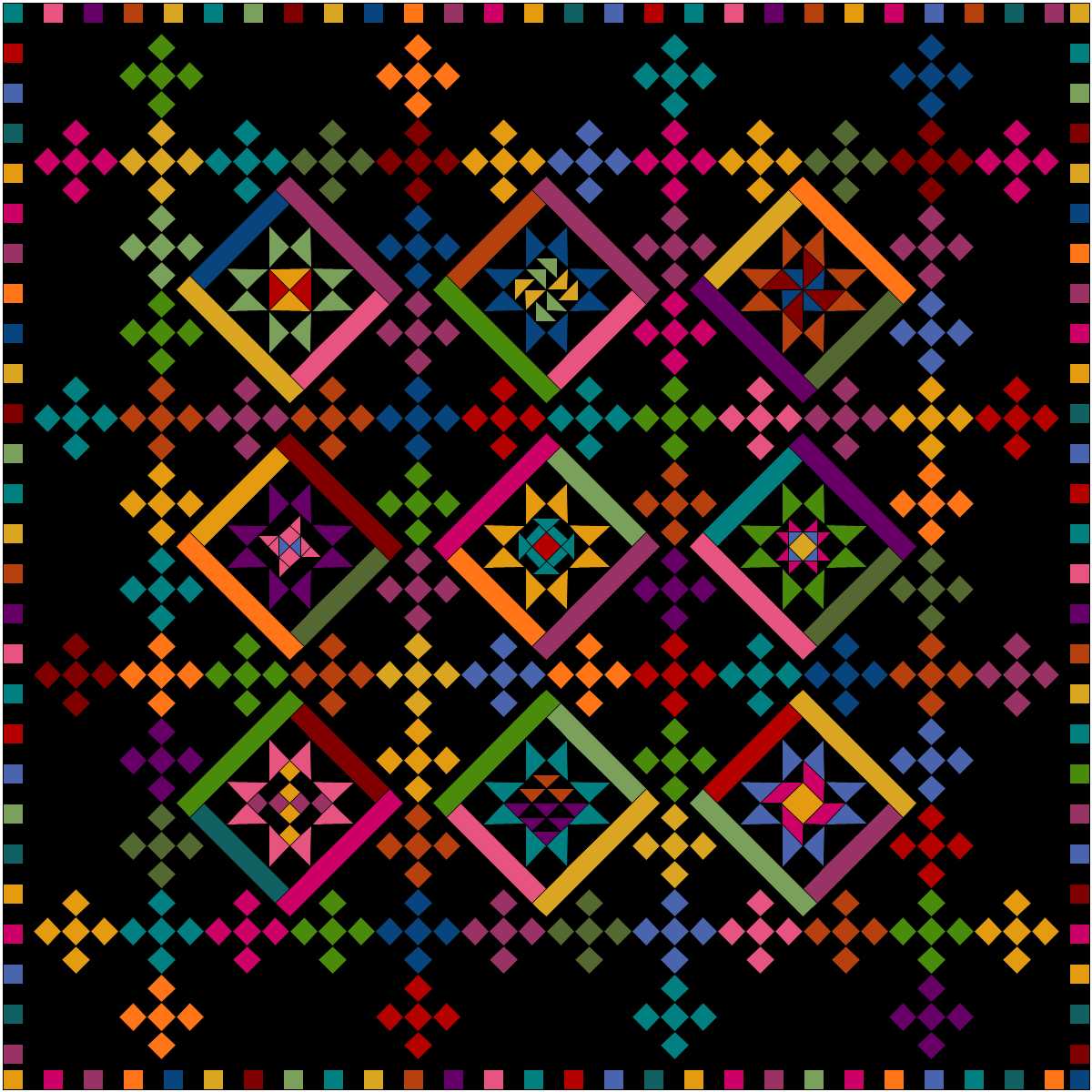 FOR 2021: We are doing a new program and will release details by Jan 2, 2021.  Because we had to skip a month in 2020, we will complete the current First Saturday program in February and will start the new program in March 2021.
It's just a nine-month program, so it will end in December 2021.
We are excited to introduce you to a few of our Old Friends. Our new ten-month block of the month, Old Friends, features time-honored blocks placed within an eight-point star, surrounded by courthouse steps and set with the ever-basic nine-patch setting squares. The finished king-size quilt measures 108"x108" and showcases 17 different fabrics. We will be using a curated collection of Kona cottons and a subtle black printed background for the background.  Alternate 92" by 92" queen-size instructions are also included. As a bonus, each pattern explores the history of quilting in the US. We hope you'll join us and meet our new Old Friends — a truly modern quilt with a vintage look.
Starting March 6, you will receive the fabric for a 6" finished block each month.
FOR 2021: You will register for the First Saturday ahead of time by paying the non-refundable pattern fee of $25 (plus tax). You will register and pay ahead of time to participate.
Here's how it works:
*  You will sign up by paying the non-refundable pattern fee of $25, before February 15, 2021.
*  We will open the doors at 9:00 on the First Saturday, starting March 6, 2021.  You will pay $5.00 the first month you come, then it's free after the first month if you bring the completed block back between 9 and 11, or just $5.00 if you don't get yours made that month.
*  When you come in from 9-11 on the First Saturday, you'll show your completed block at the door to get the free ticket (starting in April).  Then you can go to the demo area, where the new block will be highlighted and there will be an ongoing demonstration of how the block is put together.
*   Our quilt will contain 9 blocks.  You can finish it any way you'd like, but we will have queen and king size options available. Finishing instructions will be available on the tenth month, December 2021, but we will have hints along the way for how you can get started with the finishing.
*  To get your free kit, you have to come yourself on the First Saturday between 9 and 11 am.
Please, no exceptions.  Don't be late!  Don't send someone else, not even your husband or mom or daughter, to get your free block! However, another person can pick it up for you for $5.00.
*  If you can't come one Saturday, you can buy that month's kit for $5.00.  Bring it the next month between 9 and 11 am and that month's kit is free.