Please do not wear perfume to class or to Club meetings! Some staff and customers have serious allergy issues!! Also, at this time we are requiring masks and social distancing. Let's all work together to keep each other safe!
50 Yard Club
To thank you for keeping us in business for 47 years, we invite you to sign up for our 50 yard club. Buy 50 yards at regular price, get a $25 gift certificate, good for a year! One person per card, please.
$  No limit on gift certificates—buy more to earn more!
$  No key chains to punch, no cards to lose
$  We'll keep your card on file
$  Yardage must be posted at time of sale.
This takes the place of guild discounts
Birthday Club
Present your driver's license any time during your birthday month for a one-time discount of half your age!
Limit 30% discount
Discount applies to regular price merchandise—as always, classes, consignment, special orders, and custom quilting are not included. Sorry, we can't hold merchandise for your birthday discount.
This discount is for the birthday boy or girl only, please!
Finish It Up Club!
No meetings! No dues! No stress!
Actually a stress reliever!
This will be a bit of nudge for you to finish some projects.
To help you get motivated to Finish It Up!, each time you complete a project, bring it (or a picture), to the quilt shop for a "Show 'n Tell". We will enter your name for that month's drawing for a $10 Gift Certificate at the Back Door Quilt Shop. Enter as many times as you have projects completed each month. We will draw a winning name each month.
Groovy Girls
See the latest projects, rulers, techniques, and get 10% off your purchases that day. Get a FREE fat quarter with your show and tell.
Each month, we will have a pattern for a fun and FREE project. Be sure to bring the project back so we can all admire it!
Please remember your mask—it is required in our shop for now.
Session I
Session II
When:
Thur the following day
Knotty Girls Club

This is a club for hand stitchers of all kinds, but especially embroidery. Bring your own projects to stitch on, and a show and tell to share. Knotty Guys can join, too!
Session I
When:
2nd Tue January-December
Session II
When:
2nd Wed January-December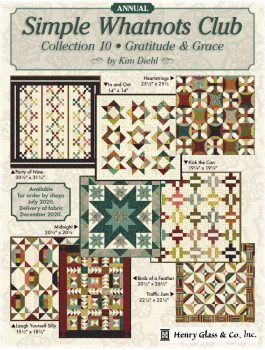 Simple Whatnots Club 10 by Kim Diehl
Andrea Barber is the hostess for our Simple Whatnots Club from Kim Diehl. You will receive all the patterns shown, plus a Block of the Month project.  We will start back up in February, due to the upswing of Covid cases.
Part of the club's requirements is that a fabric bundle must be purchased from us by the first meeting—choose either fat eighths or fat quarters of Kim Diehl's Gratitude and Grace fabrics.  You can pick up your bundle and patterns anytime starting January 12.  If you are unable to come to the shop for meetings, we will be happy to mail your goodies!
Session I
When:
2nd Tue February - December